There is a beauty in leadership. There is also a weight, a definite weight. But falling into bed exhausted virtually every day in the month of November has convinced me that I am called to lead some people somewhere.
I think that we have taken our leaders for granted. At least I know that I have been guilty of this.
I only now know that they go home and struggle to leave the day behind. They yearn for more for their people. They replay every move made in hopes of finding a better way. They stress over the details. They manage the minutiae. They are simply relieved when things go well, quietly thankful. They are grieved when things go poorly, stubbornly responsible.
I have seen in leading this church that there are many hurdles, many battles, and many challenges that are simply inevitable defeats along the path. More than that, they are learning experiences, keys to finding ways to lead with more efficiency, more clarity, and more inspiration.
I have seen in leading this recent team that joys are shared and failures are often internalized and owned very personally. I have seen that the smile of another is often one's best reward, that the God-breathed experience of those one is leading is often the goal in and of itself.
Like a muse in a dream, this past month has awoken me to the potential that is within us all. To lead… Someone somewhere is anxious to follow, to learn, and grow. I am one of them.
I am also intrigued by the call to become the foundation of the church for His name's sake. And this may have been one of the most important revelations of the last few weeks.
In the church, the temple not made with hands, our leaders are not the window dressings and carved marble pieces that draw our attention and glee. They are not the cathedral stained-glass or the vintage crown-molding. They are not the grand entrances or pleasant landscaping.
Our leaders are the foundation of the temple. They quietly bear the weight of many and they let the pillars and beams take the credit. They silently groan as stiff winds assail the structure, as the feet of many come to trample on holy ground. Occasionally, they crack and need repair, reconciliation, and reconstruction. But mostly, they do the job that few desire. They keep the temple from crumbling, providing a place for all to stand in the shelter of the Most High.
I have tasted this ever so slightly. And I can see a life lived in this manner is a life well-lived. I am thankful for those who have led me. And I pray that I might be used so mightily.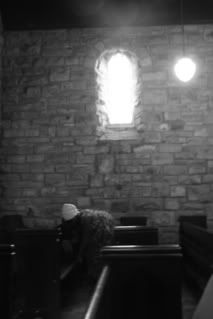 (I caught this woman "leading" in a 100 year-old Episcopal church we snuck into. We wanted to see the beauty within and none of the ancient stones or windows could match her silent effort - diligently polishing the old, wooden pews...)