In the Seinfeld episode entitled
"The Marine Biologist"
, Jerry laments how his favorite t-shirt, "Golden Boy" is dying due to aging. Elaine doesn't understand Jerry's attachment to Golden Boy...check the transcript:
Jerry: Elaine, see this T-shirt, six years I've had this T-shirt, it's my best one, I call him...Golden Boy
Elaine: I'm on the phone here.
Jerry: Golden Boy is always the first shirt I wear out of the laundry, here
touch Golden Boy!
Elaine: No thanks. (to the phone)Yeah, Yeah I'll hold.
Jerry: But see look at the collar, see it's fraying. Golden Boy is slowly dying. Each wash is brings him one step closer, that's what makes the T-shirt such a tragic figure.
Elaine: Why don't you just let Golden Boy soak in the sink with some Woolight?
Jerry: No!!! The reason he's iron man is because he goes out there and plays
every game. Wash!!! Spin!!! Rinse!!! Spin!!! You take that away
from him, you break his spirit!
Here is my "Golden Boy". He is simply called "Mini-Van", although he is falling out of the rotation due to spousal protest. You can see how his color is fading, the green giving way to yellow. He has stood by me for years and continues to make special appearances.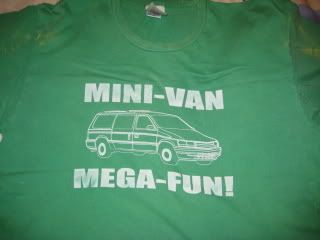 This is "No Doze". The back says "Don't hate, just rock". My friend Daniel gave it to me and I wear it with pride when I am feeling particularly rock-ish.
I designed this one (available at cafepress.com/6600). It too is dying. Poor Namibia is fading away.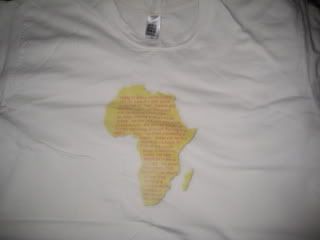 My brother gave me this gem, although I think the humor is lost of Africans. I get looks like "Do you really drive that car?" You can see his color fading around the collar. Stay strong, buddy.
"Brownie" came from Target and is holding up very nicely. I don't exactly know what the design is, but I'll wear it often until someone alerts me that it is a dominant symbol of the occult.
This is the newest addition to the lineup. That's Joburg on the shirt. You probably won't find it in any store near you (made by Muthaland), but if you do, the quality is superb.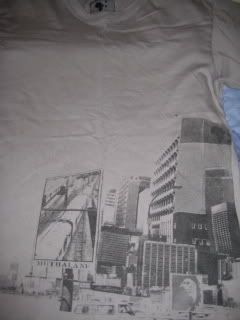 Finally, here is the heir apparent to "Mini-Van". Who doesn't love Art Vandelay? Well, Africans don't. They probably think I have a friend by that name who has a business. Anyway, this little beauty (given to me by Cousin Jeff) has found it's way into the first spot in the laundry rotation, as "Mini-Van" slowly works toward retirement. Witness, ladies and gentlemen, the next "Golden Boy."