I haven't had a drink in 7 1/2 years. I don't mind if you have one, but I sort of disqualified myself back in the day. Trust me.
Anyway, I have to admit that it was an odd feeling buying beer this last weekend. Let me explain.
We had a small crew of dudes working on our house. They were laboring pretty much all day Saturday when one of the dudes (the only one who spoke English) asked Stefani if she could run to the convenience store and grab them some cigarettes. Their ride would only be back in a few hours and the guys could use the smokes.
After some explaining from me as to what exactly they had asked for, Stef grabbed her keys and headed for the door. And then I stopped her.
"Why don't you grab them some beer," I said.
She sort of stared blankly at me for a second, trying to process the words that had come from my mouth. I think I almost quoted Shawshank right there and then.
"I think a man working outdoors feels more like a man if he can have a bottle of suds."
So away she went to buy two unfamiliar products for some dudes we didn't really know. I smiled as I thought of my pristine, West Texas wife buying sin-taxed contraband (what will the Baptists say?!?) that she'd probably never bought before in her life. When she came back with the cigarettes, they were thankful. When she pulled out the beer, they were stunned.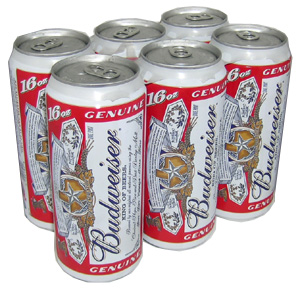 "We work really hard and do a lot of thankless work," said one of the workers. "You don't know what this means to us - to really feel appreciated."
Which was exactly the point.
If I were honest, I would say that Stef and I are pretty uncomfortable with the whole concept of people working "for us". She is always trying to help them and I am constantly trying to show them that we're equals. It is a strange cultural norm we have to break through, this concept that they are "laborers" and we are the white "employers" for the day.
I wanted them to see that we're both just humans, broken folks plugging away. I hope the beer, delivered with Stef's sincere smile, helped that. I hope they felt appreciated. Not as workers, but as men. I hope they felt respected and valued. I hope...
As Sunday wore down, they had finished their work and were waiting on their ride. I had to drag a bunch of brush from the backyard to the street (brush pick-up day is here!!). After I brought my first load forward, they just started walking to the backyard. Before I could refuse their help, all three of us were now dragging brush to the pile. Some part of me thinks that the dudes are just wired to work hard so they pitch in wherever there is need. And that's honorable. Another part of me hopes that they helped me because we were now closer to being partners than proletariat and bourgeoisie.
We finished and I just smiled. Since their ride was still late, we decided to help them gather their equipment and walk it back to their boss' house down the block. The picture must have been something. Two Mexican dudes with ponytails carrying the heavy equipment, followed by Stef, Jeff, and I...and Bella ambling along for the journey, little blonde curls bouncing in the evening breeze.
We dropped their stuff at the house down the block and shook hands...like men. We talked a bit about their lives. One dude had 7 boys. The other had my ice chest, which, after some intra-lingual stumbling, became his ice chest. "Feliz Cumpleanos", I told him.
I hope Bella sees all of this. Or maybe I hope she doesn't. I hope brown skin and Budweiser don't even register in her little brain. I hope she sees a soul and someone to love before she ever considers class or status. I hope she learns to speak the language of people unlike her, whether that is verbal or just in material gestures. I hope she doesn't fear others for their differences, but yearns to bridge them, even if it requires unconventional means.
Even if it requires bringing home ice cold, beechwood-aged Budweiser...for someone else to enjoy.