Hello…it's Stef.
I wanted to share with you guys my fun hair experience!! (although it caused slight damage…oh well, it's just hair!) So, I decided to get some corn-rows so I could become a true South African. My friend Jennelein did them and it took about 3 ½ hours. yikes, it seemed like forever! She is so sweet and patient!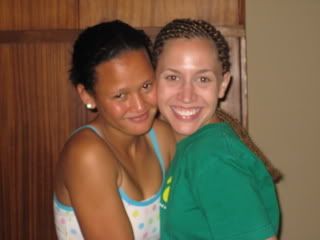 It was so funny seeing everyone's reaction to it! I just thought that people looked at me funny when I was driving this huge van… (remember, only black men drive these vans and here I am a female and a while female at that!)…but man did they look at me funny when they saw me driving with corn-rows too!! hahaha 
I only left it in for about 5 days. (man, it itched!) Kyle and I had quite an interesting time trying to get them out, but this is what it left me looking like! I had never experienced such curly hair in my life! (I told Tiff I felt like her for a day!) It was fun.
Anywho, just thought I would share my experience and some photos with you!! Have a good laugh! Love you guys.