Have you got a minute?
Without a definitive subject to write about today, I thought I would just throw some random stuff at you to see what sticks.
- Thunderstorms here are ferocious. I mean, I thought a big Texas thunderstorm was as nasty as it could get. I was wrong.
It has stormed frequently recently and with these storms has often come hail. Apparently, this is quite common. I wondered if it was due to the altitude here (almost 6000 ft above sea level) so I checked the Wikipedia.
From the Wikipedia:
"Hail is also much more common along mountain ranges because mountains force horizontal winds upwards (known as orographic lifting), thereby intensifying the updrafts within thunderstorms and making hail more likely."
While not exactly a mountain range, Joburg is located near a large escarpment, so maybe that has something to do with it all.
Did you learn something? Did you look up "orographic lift"? You should.
(I had to take a geography class that dealt with meteorology and such things in order to graduate from UT…thought I'd share the boredom with you.)
- Christmas here is bizarre. People flock to the beaches, the cities empty as Africans return to "homelands" and the whole idea of decorating for Christmas in the summer is just strange.
You "northies" (remember, that's my derogatory term for people from the Northern Hemisphere?) have it easy. You invented the commercial Christmas culture so it makes sense there. But alpine trees and garland and mistletoe doesn't make a whole lot of sense in the African summer.
No matter. People go just as nuts shopping here as they do there.
Try to keep the other half of the world in mind next time you commercialize a holiday, OK?
- Can I just say that the Kindle (oh, the Kindle) is the most intriguing product I have ever come across…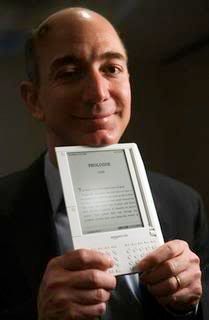 I mean, this is the first time in history that I feel like a product was created for me. Seriously, I am the target audience. I am the early-adopter.
I am young and unafraid of technological things (except for robots like that maid from the Jetsons).
I am a huge reader. I probably read 20 books a year.
I often read many books simultaneously, which means that I either have to become Nostradamus for the day or I have to lug around 4 heavy books in case I should decide to read a different one.
I already buy all of my books on Amazon, so the Kindle offering them to me wirelessly (and cheaper) is a free bonus.
What else can I say?
I will say this. Several people have joked about buying a Kindle for me. I laughed with them and dreamed of the day that such a thing might be possible for me. Well, one couple (I love you) wasn't joking and actually bought it for me. So, now I just have to fill the thing up with books…although I don't actually know when I will possess it – the Kindle sold out in 5 hours and they don't even have an estimate on delivery of recently ordered units.
No problem. I will wait patiently.
- Did I mention that we watch Survivor here? Well, we do. Or should I say we did. Well, we caught almost every episode from Survivor: Cook Islands and we got all gussied up for the season finale a couple of weeks ago.
Well, that bombed royally.
The geniuses at SABC decided that I didn't really need to know who won the show and they decided to air the jolly season premiere of "The Magic Cape Race" (a crummy local reality show) in its place.
So, we had to look up the winner on the internet, which was admittedly less thrilling than watching the ending play out in properly produced form.
- The Kaizer Chiefs won the Telkom Knockout, the richest soccer tournament in Africa. Now you know.
- World AIDS Day came and went and we heard next to nothing about it. That is probably not a good thing, being that we live in the capital of the pandemic.
There was a big concert here, with international artists and local talent attracting 45,000 people to Ellis Park for a day-long awareness-raising explosion of music. Of course, the impact that something like that will have on the long-term status of the disease in negligible.
Sigh.
- We are going to a place called Carnivore for lunch next Wednesday. Willie is taking the staff out for lunch for Christmas and we selected this crazy place. They have every exotic meat from Africa on Kenyan tribal spears and they come to your table and slice off chunks in a most delectable manner. Everything there tastes amazing and it is a truly unique African experience.
I've been a couple of times before and I must say that the chance to go back is always welcome. My personal favorite meats are the Warthog (Pumba!!!) and Zebra (tastes like thoroughbred)….least favorites are the Wildebeest (really tough beef) and Kudu sausage (ask Daniel Duce…sauseeeege).
That's all for now.
Don't you go changing.