We've been promising photos from the Leadership Summit, so you could see the young people that we're trying to invest in (especially for those of you who sacrificed so that they might have a chance – thank you again).
We've been so pleased with the results of the 2-day conference. The guys (and girls) are still talking about the concepts they learned from Collin Powell, Carly Fiorina, Marcus Buckingham, Richard Curtis, John Ortberg, and Bill Hybels. Google all of those folks. It would be worth your time.
Anyway, let me share some more good news with you. A small Canadian team of ministers has come through and one, in particular, was impressed with my leadership guys. He sat in on our Wednesday night class and offered to buy each guy in the class the book of the speaker of their choice from the conference. Praise the Lord!!
The African children sing a song: "If you believe then I believe, Africa will be saved."
With your help, there are still days when I can believe that to be true.
the group (minus one who was looking for a toilet)
preparing to learn with free coffee and materials (big deal, i promise)
stef and tondy enjoying lunch
michael, kyle, and and mareka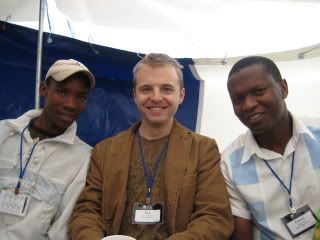 close up of the badge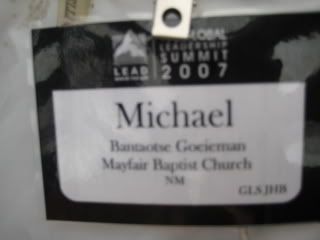 inside the summit