The following photos are from one of the most interesting, most frustrating evenings we can remember.
Stef received word recently that the TV game show Deal or No Deal was looking for her. She answered a casting call of theirs in May. Well, they waited until we arrived here to call her about it and then asked if we could set up a phone interview and video audition for the producers.
Obviously, this could be a tremendous opportunity, so we got right on it. We needed a video camera, lighting equipment, 5 "supporters" who understood the game, and a speaker phone. Check. Check. Check. Che…Uh-oh.
We scrounged around and found what we were looking for. The final piece of the puzzle was finding a 30m phone cord to take the office speaker phone into the church (aka studio). We set up and were ready to go when, gasp, we realized that while we did have a speaker phone, we lacked a phone with a microphone.
Who makes a speakerphone that you can't talk into? Apparently, South Africans do. The biggest problem with this revelation was that we only found out an hour before the 11am conference call (11am in Los Angeles, 8pm for us).
We then scrambled around for a phone and enlisted the help of everyone we could think of. We ended up with 7 speakerphones from a variety of sources….none of which would work. Every problem that you could imagine popped up: phones were dead, phones began smoking when plugged in, phones couldn't find a dial-tone, and phones just plain didn't work.
Eventually, exhausted, we let our crew go home. Stef called the casting agent in LA and broke the news. For all of our efforts, we just couldn't make it work.
The good news in all of this? He said we could do it all again this Thursday.
Enjoy the photos.
the professional lighting
the contestant
the frustrated husband and his cords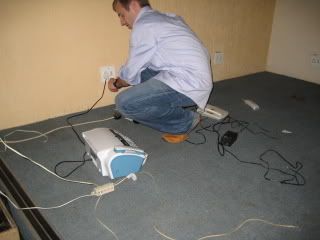 the supporters
restless africans
canadian videographer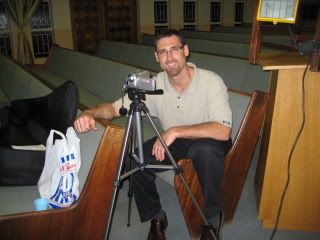 antique phone #1 of 7(aka "the problem")