So, we had to cull 56 lbs from our luggage. We did what we could, became much lighter, and put our bags up on the scale in the San Antonio airport... 68 lbs each...
Our hearts sank. A deep sigh has become synonymous with a quick prayer for us lately. So it was a deep breath for each of us and a "please God" from my lips. The United Airlines employee saw our eyes and asked if our trip to Africa was military. He was searching for a way to give us a break.
"Missionaries," I said. "We're moving. Feeding kids and stuff."
He looked over his shoulder to make sure the coast was clear. "$50 for all four bags. I can't charge missionaries full price. Just don't tell anyone - no one has to know."
Our first good break. Another deep sigh..."Thank you," I whispered intending the words to reach his ears and the heavens.
We rushed to the gate. On to Chicago. Or so we thought. Thunderstorms in the midwest meant a delay of our flight leaving San Antonio. Thirty minutes quickly became 3 hours and our plane which was scheduled to leave SA at 5pm ended up in Chicago at 11pm.
Feeling pretty helpless, we trudged what seemed like miles to the gate where our Lufthansa flight to Germany (which would then whisk us to Joburg) was supposed to be leaving at 9:45pm. As we expected, we found a quiet gate. Our plane left us long ago.
Midnight in Chicago. Midnight in a eerily quiet airport. Our stomachs rumbled. Our hearts sank again. And we found a line to United Customer Service. Maybe they had some answers.
A woman named Nalena took our worthless boarding pass and gave me a "you're screwed" kind of look. She said that she would reserve tickets for us on the next open planes on our route - letting me know that we would be arriving in Joburg on Friday morning, a full 48 hours after we had planned. Further, she explained, there were no available hotel rooms in the area because of all of the delays - not that we had that in the budget anyway.
Dejected, we began searching for a place to sleep. Good fortune brought us to Gate B10.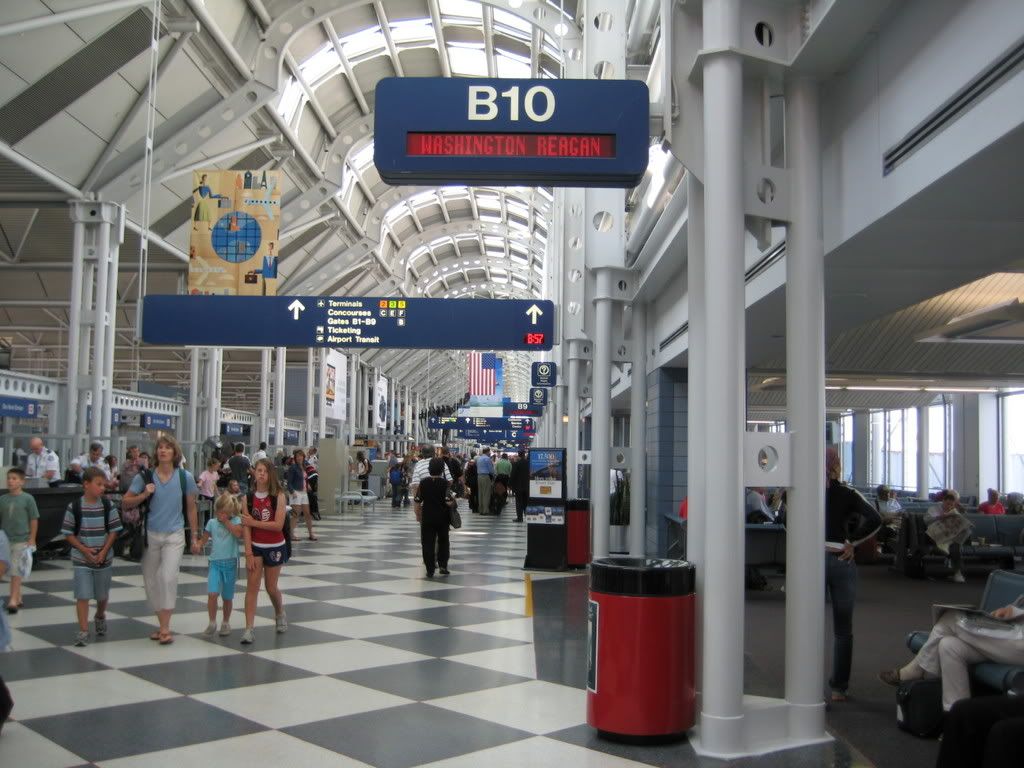 Around the backside of the kiosk where the gate attendant answers questions was a bench in a relatively dark, relatively quiet spot. Praise God for small blessings. Stef curled up on the bench and I attached myself to our bags on the floor. My t-shirt became a pillow. She wadded up a pink sweatshirt - a blessing - as her pillow. A short tearful prayer and we drifted off to sleep.
It sucked. But, perspective is everything. Somewhere in Joburg, a family shivered to sleep on a dirt floor in the cold winter. And they didn't have the hope of Starbucks opening at 5am to sustain them. To have that faith.... Forgive us, Father. We said thanks for the shelter and safety.
Around 5:30am, we rustled awake. Everything hurts and something smells. We decide that it is me. My breath or B.O. or some combination of both. And we're looking at 72 hours until a shower. Thankful again. No one beyond redemption, right? Not even smelly Americans on a sticky airport floor...
After trying to clean up in the airport bathrooms, we went to stand in the line at the United ticket counter. After a short wait, we met Sayed Najim, the ticket agent. He, like Nalena, began what looked like a futile search. Stef did the talking for us after she pointed out that I was saying things that made no sense. She was right. I was clearly nonsensical.
Sayed tried to reroute us through Paris. No luck. London. A twenty minute phone call and -YES - London!! We could fly to London at 6:22pm Tuesday, then to Joburg at 9pm Wednesday night. We would be in Joburg 24 hours later than we first thought, but 24 hours earlier than we feared. "We'll take it," we said. Another quiet "thank you" left our lips, again seeking earthly ears and heavenly ones.
So, here we are.
11am in Chicago. We are 11 hours through our 19 hour layover. We are smelly. We are cranky. We are sore. We are humbled. We are missionaries. We are thankful.
Father, work all of this to your good, your glory. Father, quiet our hearts. Remind us of our privilege and the blessings in hardship. Teach us to love this place of difficulty. Give us eyes to see the hearts that hurt in the seat next to us. Give us hearts to understand the plan and the ways that this all represents you and your character. Above all, be blessed. We are trying to love people (and each other) as we go. Father, give us wisdom. All the roots grow deeper when it's dry. Bless those we can touch, Sayed and Nalena. Give us rest. Wake us anew to bless your name. Father, you are good. We love you. Amen.