We live in a big city – a city with 10 million humans bustling about. Ya, it's Africa, but it is still the city. So, you wouldn't expect a lot of crazy wildlife experiences with us.
Well, you'd be way off. With the arrival of summer (and the rainy season) we have had our share of run-ins with local, urban wildlife. No lions or rhinos, but we've come pretty close.
First off, there has been a biblical infusion of mosquitos into our area – and our room. These aren't your typical mosquitos either. These are blood-sucking helicopters. Seriously.
Then, you have another variation of the flying pest, complete with stingers and creepy antennae.
And, who could leave out the mother of all household pests – the scorpion. Nothing like finding one of those in your shoe...
Luckily, I am pretty much the world's toughest guy (insert polite laughter here). And, luckily, Stef has been armed with the camera to capture the recent action. With tongue firmly planted in the cheek, we hope you enjoy.
no fear in those eyes...just "tcb" - takin' care of business.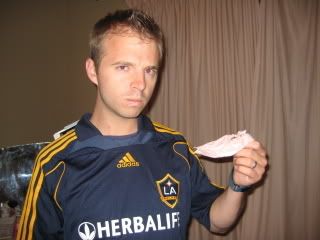 the scorpion that i killed with my bare hands (and a pink tissue)...
who is buzzing in whose ear now? huh?
the flying predator that i killed with my bare hands...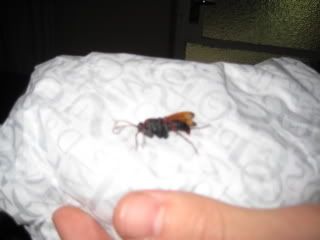 why am i putting the pest onto duct tape, you ask...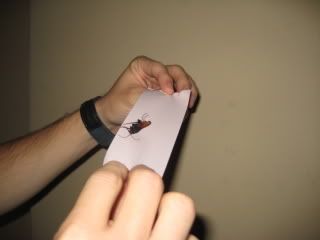 obviously, the duct tape acts as a sort of pest-tomb on the wall...and why would i tape the pests to the wall, you ask...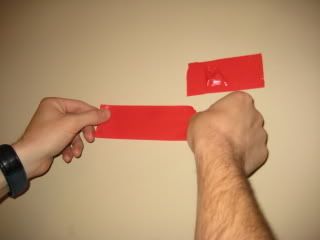 so that, along with my personal ferocity (see face), the other pests will know what happens when you mess with delirious american missionaries. (just a note: ignore the slightly less-fierce gwen stefani poster - my sister made that for a class at UT and we hung it because we like my sister and the poster is pretty impressive.)