One of the most common questions we get is "How can I help?"
And we're usually left scratching our heads. Money is useful here. The kids at the squatter camp are always (ALWAYS) hungry. And money can buy more food. But somehow, night falls and the morning comes and the kids are hungry again. It doesn't make feeding them a bad investment, only a difficult thing to ask for help with. There is no satisfaction there.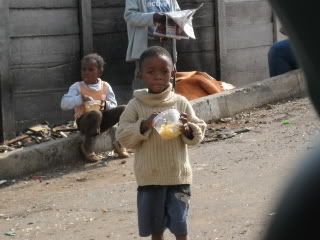 The church is pretty poor, too. Our Sunday collections usually fall between $200 and $300 dollars. That is supposed to run the place for a week, even though it couldn't pay a western church's staff for an hour. But God works in beautiful ways and the bills always get paid and the staff always has money for food.
So we sit and wonder. What can we let people help us with? And how can we put that money to a sustainable use, something that will last much longer than a meal or a soccer ball or even a salary?
Then, slowly, we saw the light.
Every Wednesday night, Stef and I each teach a class to the local church members. Stef teaches a music class, teaching folks music theory, how to read music, and the book The Heart of the Artist, all in hopes that they would be able to turn their passion for music into a real, usable skill - useful for personal worship or simple self-esteem. It is a wonderful thing to watch these Africans learn, especially from a teacher as good as Stef and in a subject that they care so deeply about.
I teach 5 young men in a spiritual leadership class. Partly due to political circumstances (apartheid), partly due to cultural circumstances (Africans are very different from westerners), and partly due to a lack of education, there is a HUGE leadership vacuum here. So Pastor Willie hand-picked five of his brightest young men to study with me and hopefully grow enough that they could stand strong as the leaders of the next generation. Currently, we are working through Spiritual Leadership by J.O. Sanders with Bill Hybels' Courageous Leadership to follow. And let me tell you, these guys are so excited. They are eating up the books, coming in with new insights and great questions and an incredible zeal to learn more. Having never had the money to buy themselves study materials, they are discovering the beauty of learning at 24 years old.
On top of all of that, we are taking them all to the Global Leadership Summit in October, where they will get to hear speakers like Jimmy Carter, John Ortberg, Collin Powell, Bill Hybels, and Marcus Buckingham among others.
All of this to say: We need your help. Books are expensive, sometimes double and triple the cost of books in the US. And this leadership conference will cost us as well. Grace Point already generously helped with some of the costs of the leadership conference. We still need another $300 to cover the leadership conference costs (8 of us are going in all) and the books. We've already paid for these things, knowing how important it is for these guys and knowing that God will provide all we need.
All the while, Stef's class of 15 works on one book. We're talking to the author to try to get some donated or discounted, but we will need help in securing them and getting them here. There is always a need...
We feel like this is the best investment we can make in the people here. We are giving them resources that will long outlast us and will satisfy much longer than any meal. We feel like we are equipping and empowering people. If you could only see the light in their eyes as they learn...
If you've been wondering how you can help, we'd like to suggest that this is the way.
You can go to this link
Give Online with Grace Point
and click on "Other" when given the option, specifying "Kyle & Stef Leadership". They'll know how to get it to us. Or you can send a check to Grace Point Church, 9750 Huebner Road, San Antonio TX 78240 with "Kyle & Stef Leadership" on the memo line.
They send us money direct, with no wire fees and no administration costs. Every cent you give for this comes straight to us to be put to use. Anything over the $300 we are looking for will be used for additional resources... We'll certainly let you know where it goes.
We are praying that this is received well, hopeful that you know how much we value all of you. We are asking for this only because it is so often asked of us. Please give only as you feel led and know that we are sure that God will provide.
Kyle and Stef - None Beyond Redemption, Darkness into Light