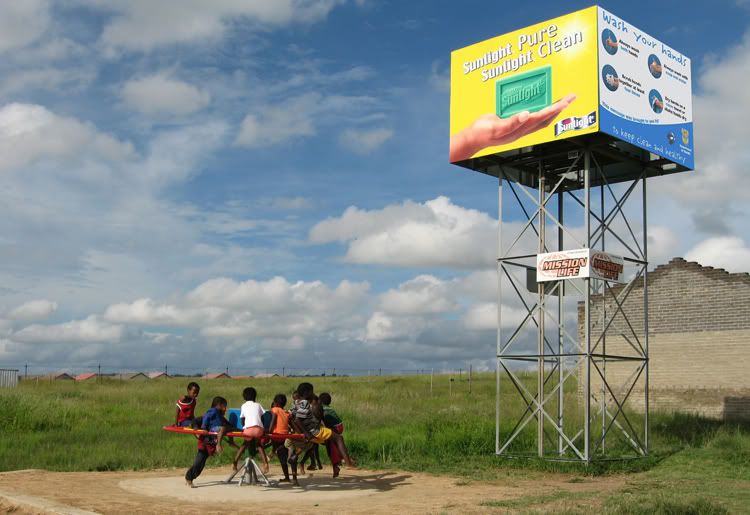 A lot of people have been asking what we're doing while we wait for our July 9th flight. Aside from packing and selling and soaking up the warm Texas sun (it will be COLD in South Africa when we arrive in July, believe it or not), we are trying to raise money to build wells in Africa, to give people access to clean water.
More than just any well, we are trying to build PlayPumps, wells that are powered by children playing on a merry-go-round and sustained by advertising that funds their maintenence. There is a link to the PlayPumps website on the left-hand side of this page. Check it out. (Or simply go to playpumps.org)
Anyway, our goal is $14,000, enough to supply thousands of people with clean water for years to come, enough for one fully-functioning, self-sustaining, life-saving PlayPump.
Today 6600 Africans will die with AIDS. Sadly, there is no cure. Today, 5000 more Africans (almost 4000 of which are children under the age of 5) will die from lack of access to clean water, from diseases like diahrrea. That is 2.2 million deaths this year, 1.7 million of which are children under 5 years old. For this problem, the cure is simple. We can provide clean water. We can change the world.
If you have any interest in this, you can donate through the PlayPumps website or put your donation into the fund we have set up for them through our local church. We hope to arrive in Johannesburg in July, to the PlayPumps offices, with a check for a complete well - with a check to change the world.
Email us with questions - theburkholders@gmail.com ...